NuWave Induction Cooktop Review
Customers have a love/hate attitude about NuWave. The reason for that will be revealed later. We've had our NuWave PIC Pro 2 for over two years and still love it. After introducing some of the other options, I'll share our personal experience and give our NuWave reviews for the portable induction cooktop and NuWave cookware.

Portable Induction Cooktop Brands
Once you decide to invest in an induction burner, how do you choose the right one for your needs? Many revealing portable induction cooktop reviews can be found in the Amazon forums. While subjective, most are based on actual user experience.
Several brands found on Amazon.com include:
Duxtop Induction Cooktop Countertop Burners
Secura Portable Induction Cooktop
True Induction Cooktop, Double Burner
Ivation Portable Induction Countertop Burner
Max Burton Portable Induction Cooktop
Gourmia Portable Induction Cooktop
Inducto Professional Portable Induction Cooktop
Fagor Portable Induction Pro Cooktop
BerHOFF Commercial Grade Portable Induction Cooktop
Viking Induction Burner
NuWave Precision Induction Cooktop (PIC)
Best Portable Induction Burner Reviews
How can you sort out all these choices? You could drive yourself crazy trying to keep track of the positive reviews, the negative complaints and comparable features. Different forums and articles review the portable induction cooktops, induction ovens, induction ready cookware and full induction stovetops as well. It's confusing enough just trying to educate yourself and understand how these appliances work so as to grasp the differences.
Portable induction burner reviews abound – pretty sure I read every single one of them! Hopefully this article can save you some time and frustration. In the above list (with the exception of BergHOFF, which had only one review to date), each burner was beloved by many and despised by several.
Every Brand Has Some Serious Problems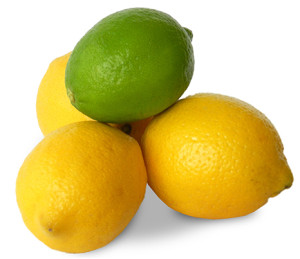 One thing seems clear:
Every brand of these high-tech precision appliances have the occasional lemon that didn't work, stopped working or seriously malfunctioned (e.g. burned out). That's frustrating but dealing with a reputable vendor helps the process.
Lemons aside, even the higher priced units like Max Burton and Fagor have certain consistent complaints, such as:
Temperature fluctuations
Power levels that jump too far between settings
Temperature settings way off from actual temperatures, mostly but not always in the lower ranges
Insufficient control over temperature settings (not enough temperature increments)
Heat rings too wide for use with a small pan (induction burners give an error message when they don't sense a pan on the burner) or elliptical shaped instead of round
One commentor complained of a Duxtop flat design where the pan could slide forward – his controls were fried that way
Several people complained about the maximum two or three hour operating limits
One take-away message is that even when most of the buyers loved a brand, the units with problems were really serious, much more so than the NuWave.
NuWave Reviews
The majority of users rave about the sturdy build, ease of use and dependable quality of the NuWave portable induction cooktops.
Beauty & The Beast
The Beast – Most of the negative NuWave reviews complain about the aggressive, confusing, tricky sales process from the main distributor from the television infomercials. Customer service was non-responsive for those who didn't receive the correct items or received empty boxes. One Amazon customer described the NuWave appliances versus the infomercial distributor as "Beauty and the Beast."
We ordered ours through that company's website. We are savvy at online ordering, but even after calling the 800 number to clarify some options, were surprised when the final tally of our $89 burner had climbed to $239.82 for the upgraded model, 2nd "Free" PIC 2 Pro and the induction cookware set. We were lucky to receive what we ordered and didn't have to use their Customer Service.
Beauty – As more than one Amazon reviewer pointed out, these are durable, high quality burners and the company does NOT need to behave that way! A number of highly positive NuWave reviews spoke of purchasing other brands, returning them and going with the NuWave. A couple people abandoned the infomercial telephone process and ordered on Amazon instead, where they could select their burner(s), choose cookware they wanted, and know exactly what is the cost and shipping (if any) before they hit the Buy button.
Some Favorite NuWave Features
Those who do long simmers for stew or bone broth are delighted with the 100 hour programmable setting.
Those who are into canning produce appreciate the 50-pound weight load the PIC will accommodate…
As well as the fact the burner stays cool – who needs to heat up the kitchen on a hot summer day with a 500 degree burner going for hours?
Purchase yours on Amazon, where you have confidence in responsive customer service, the return policy and no trickery in the upgrades and shipping cost.
A couple of negative NuWave reviews complained the burner was damaged when it arrived. The glass top of one was smashed. These are shipping issues, not problems with the appliance itself. Vendors on Amazon will always rectify those problems.
Our Experience With NuWave PIC 2 Pro 1800 Watt Model
We use our induction burner several times every day for most of our cooking needs. Our experience with the NuWave PIC 2 Pro 1800 watt model is 10 Stars out of 5.
It's never given a moment of trouble. The temperature is consistent. The Pro model can be set within 5 degrees, which gives an amazing amount of control. It's easy to clean, convenient to use, and heats really fast.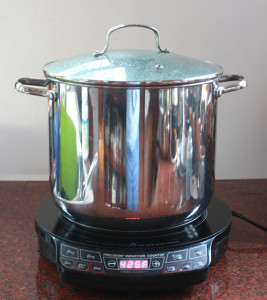 One of our first experiments was comparing the time it took to heat one gallon of cold tap water in stainless steel pots on our electric stove and the NuWave PIC 2 induction cooktop. I did not take the temperature of the water but it felt the same. The pots were not identical but close enough. I turned both burners on at the same moment.
On high, the water on the electric stove took just over 19 minutes to start boiling.
On high, the water on the NuWave induction burner took just under 11 minutes to start boiling – about half the time of the electric burner.
I was convinced!
The only thing I still prefer to cook on the electric stove top is brown rice. Perhaps a higher quality set of stainless steel induction cookware would make a difference. Since I'm brutal on pots I chose the least expensive set I could find (to round out the NuWave cookware we got with the burners) until we determined if induction cooking was right for us.
NuWave Cookware Set
An upcoming article will cover more choices for induction cookware.
The NuWave cookware set made from hard, anodized Duralon™ materials is pricey but high quality. We have good experience with the two skillets that came in the original NuWave cookware set.
Most NuWave reviews have favorable opinion of the cookware. One complained that it was impossible to clean and hers was unusable because of one "tiny little scratch" from poking chicken to see if it was done.
You do have to be careful with these pans. Don't burn food in them. If you do, soak it for awhile with soap and scrub gently with a plastic scrubbie or sponge. Take care not to scratch it. Just be careful and the pans will last a long time.
I use the 9″ more than the 10.5″, at least once every day. This is mine after two years of daily-plus use: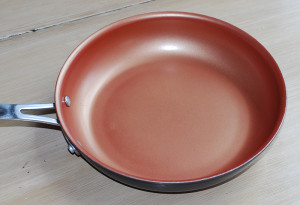 Perhaps you already have cast iron cookware or pots with magnetized stainless steel in the bottom. If you need to purchase induction cookware, there is a wide variety from which to choose on Amazon, including NuWave cookware sets and individual items.
Which NuWave Model Should You Order?
I hope this article helps you narrow down your decision on whether to invest in a NuWave PIC or some other brand of induction cooktop. If you choose the NuWave, you may wonder which NuWave model should you order?
They keep tweaking and improving the appliance so by the time you read this, there may be a new model out with minor improvements. For now, the best deals on Amazon are shown below. The criteria:
1) If you will use your induction burner in the kitchen with access to a 220V plug, get the NuWave PIC 2 Pro, which operates up to 1800 watts. It has a larger surface and temperature in 5 degree increments.
2) The 1300 watt model, NuWave PIC 2, is your choice if you want to use your induction burner elsewhere, such as:
On the porch for canning or picnic
In your RV (we love ours in our trailer to replace the propane burner)
In a dorm room
In a hotel room
Take to someone else's house
Save
Save
Save
Save
Save
Save
Save
Save
Save